Congratulations to Hina PE Portfolio Company Arrail Group's Debut on HKSE|Hina Portfolio
2022-03-22 10:52:46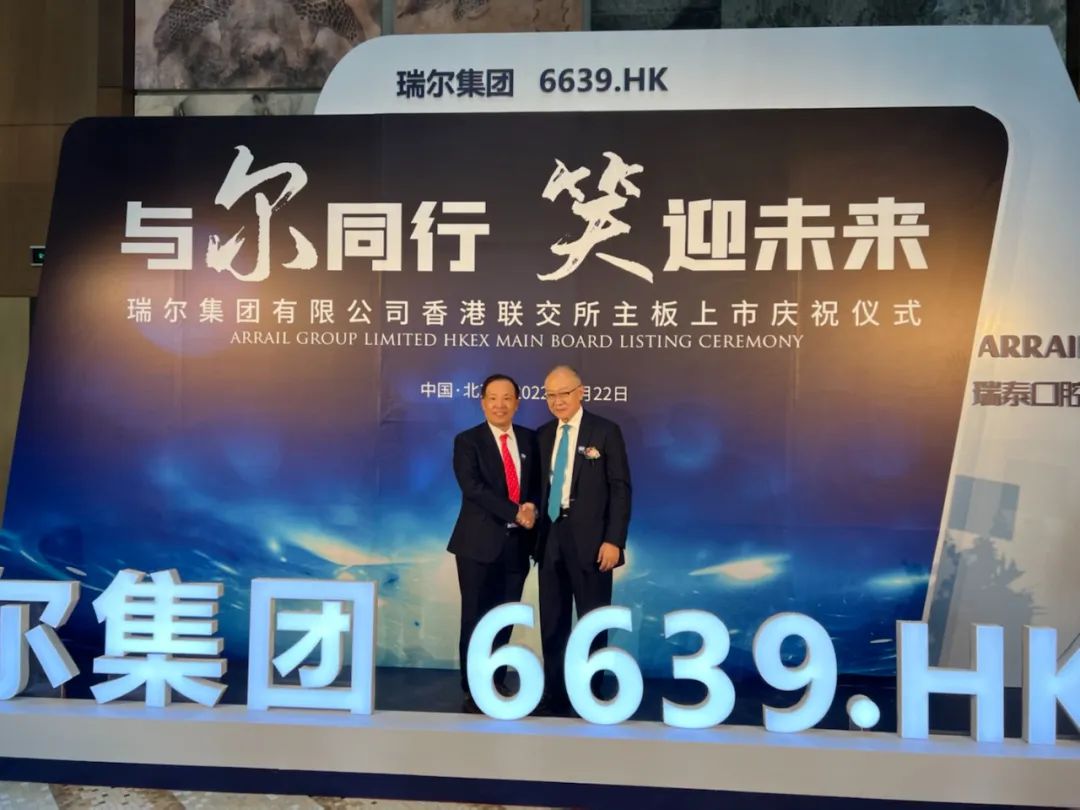 Left: Dr Hong CHEN, Chairman/CEO of Hina Group;Right:Robert ZOU, Chairman of Arrail Group
Arrail Group, one of Hina PE's portfolio companies, was HKSE listed under the ticker "06639.HK" on 22nd March 2022. 46.5 million shares were issued globally at the price of HK$14.62. Arrail Group raises HK$590m in the IPO. The capital raised will be used for business development, information technology infrastructure optimization, strategic M&As and customer acquisition and retention.
Founded in 1999, Arrail Group was the first to introduce the concept of advanced foreign dental clinics into China and is now a leading brand in Chinese high-end dental services industry, adhering to the 'customer is family' service concept, and providing customers with international standards of high-quality dental services. Currently, the company has two sub-brands, Arrail and Rytime, driven by its dual brand strategy.
Arrail Group attaches great importance to research and talent training, and has gathered well-known industry experts at home and abroad. Meanwhile, Arrail Group has formed close partnerships with internationally renowned institutions, such as the School of Dental Medicine of the University of Pennsylvania and the School of Dentistry at UCLA. In addition, Arrail Group has built an inhouse online training platform to maintain quality dentists through its mature online-offline training mechanism.
According to Frost & Sullivan, Arrail Group had become the largest high-end private dental services provider in China, based on its 2020 revenue. By the end of March 2021, Arrail Group has set up 107 dental clinics and hospitals in 15 tier one and tier two cities in China, bringing its medium-to-high end dental services to customers. In the past decade, Arrail Group has served over 6 million customers accumulatively, with a team of 856 experienced dentists.
China has an over RMB100 billion oral healthcare market, and it has been growing at a steady rate of 13.4% per year. Yet the industry enjoys very high growth potentials due to multiple factors, including low penetration rate, aging population, and consumption upgrading. Hina PE holds an optimistic view about the growth of China's oral health industry and believes that with the development of the Chinese economy and the growing general awareness of dental health, the industry will keep its high growth momentum. Arrail Group will be able to create more value for the industry by bringing excellent services to customers.
In spite of the very challenging market conditions, Arrail Group got listed on the HKSE. Dr Hong CHEN, Chairman/CEO of Hina Group said:"As the domestic dental market has reached RMB100 billion level, the industry has an obvious trend for chain operation. Leading players such as Arrail Group have a lot to achieve. Arrail Group has established itself as a nation-wide high-end dental services brand, with its impeccable doctor training system and well-established IT system. The IPO of Arrail Group is not only a milestone for the company, but also a milestone for the industry. We believe that with the long-term growth of the company, Arrail Group can continuously bring value to its customers and shareholders as well."